BRIDGES
Portable Bridge Rentals & Sales
Formula Contractors rents portable bridge structures from 6-36 metres (20-120 feet) in length.
These structures have a standard deck width of 4.3 meters (14 feet), and are rated up to 100 tons. Custom specifications may be possible. We also offer a rental purchase option, which can be a cost-effective long-term solution for our resource and industry customers.
Our sectional barge can be assembled end-to-end to create a light vehicle causeway up to 54.8 metres (180 feet) long.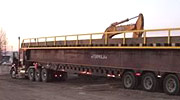 Portable oilfield bridges offer modular steel frames and timber deck panels. These bridge girders are easily loadable and off-loadable with a winch truck.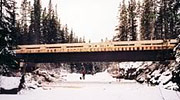 Portable bridge spans can be placed on temporary footings where competent ground is available.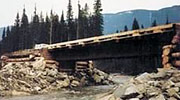 Simple abutment systems can be built to provide a good footing for temporary bridges.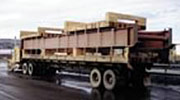 Panelized decks modules are easy to load, handle and install.
Please contact Formula Contractors Ltd. today for more information.