GUIDED BY OUR MISSION,
VISION AND VALUES.
OUR MISSION
Formula Contractors, Ltd. strives to create long-term value for our clients, our company, and our employees.
OUR VISION
Formula Contractors, Ltd. is a privately-owned company, committed to being the first-call contractor for bridges, structures, foundations, and related civil works. We have built our reputation on maintaining high standards of service, quality, and personal attention. At Formula, we conduct ourselves professionally, with candor, respect, and integrity at all times.
Every member of our organization remains true to Formula's founding core values of safety, quality, honesty, and hard work. We aim to exceed our stakeholders' expectations.
OUR Core
Values
Our core values guide every decision we make.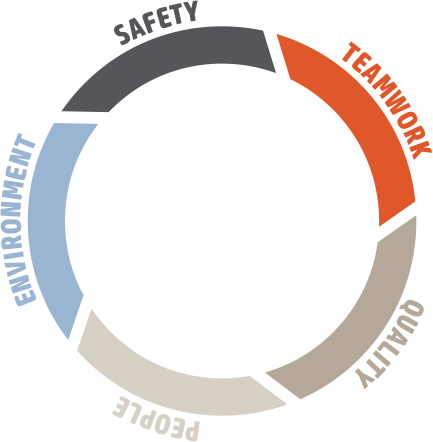 Safety
MORALLY RESPONSIBLE
We ensure a safe, healthy work environment and a 'zero injury' culture.
People
OUR PRIMARY ASSETS
Formula invests in its employees as partners in the success of the company. Learning is core – Developing the best leaders and realizing the full potential of our people is paramount to our success. We hire people based on qualifications without prejudice.
Teamwork
RESULTS ORIENTED
We empower our team members to "own the problem". We believe that the best results are achieved through the collaboration of all stakeholders. We are having fun doing what we do.
Environment
COMMITTED TO SUSTAINABILITY
We are committed to balancing the sustainability of the company, local communities and the environment that we operate in.
Quality
PASSION FOR EXCELENCE
Doing it right the first time – every time. Pace-setting and innovative. Always striving to find a better way. We monitor and measure all parts of our business