STRUCTURES
Drainage Structures
Formula specializes in the rapid installation of project-specific culverts and drainage structures. With decades of experience, we select and install the drainage systems that are best suited to the hydraulic, environmental, and structural requirements of the site.
Formula's experts provide innovative and cost-effective solutions for the removal of surface and subsurface water.
WEST BYPASS MULTI-PLATE CULVERT
Completed: 2008
Owner: BC Ministry of Transportation
This was a $1,500,000 project in Fort St. John, BC.
ITH CULVERT ERECTION
Completion 2014 to 2016
Owner: Northwind Industries Ltd (Government of NWT)
Formula assembled and installed over thirty (30) large diameter corrugated steel culverts for Northwind Industries Ltd. on the ITH Highway Project (Inuvik to Tuktoyaktuk Highway). This is the first all season highway access between Inuvik and Tuktoyaktuk NWT.
CHEVIOT MINE
Owner: Fording River Coal Corp.
Formula installed three (3) Structural Plate Super-Cor Arches at the new Cheviot Mine Haul Road located South of Hinton AB. The largest structure was the Whitehorse Crossing which required an H-Pile foundation consisting of 6500 Lineal Meters of driven piles. A cast-in-place cap foundation was built to support the double skinned arch. The structural fill over the pipe assembly required a mesh Visit-A-Wall MSE System to retain 50,000 Cubic Meters of fill at each end both upstream and downstream. The two other constructed arch structures were completed for commercial and recreational traffic and to provide access under the main haul road.
ARCH CULVERT
Owner: Ministry of Transportation
9.5m x 40m multi-plate arch culvert founded on steel driven piles. Located on the Nazko Highway near Quesnel, BC. Cast in place headwalls.
CONCRETE BOX CULVERT
Installation of a concrete box culvert under an active CN rail siding near Upper Fraser, BC.
OPEN BOTTOM CULVERT
Open bottom culvert with concrete end walls and wings for fill retention.
219 Road – Dawson Creek, BC
Excavation of 15,000 m3 of existing road fill to replace a failed highways culvert.
Noon Creek
Owner: Dunkley Lumber
Recent culvert installation.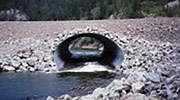 ELLIPTICAL CULVERT
Elliptical culvert under resource haul road with well armored inlet to minimize erosion possibilities.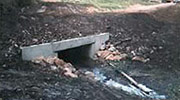 PRE-CAST CONCRETE CULVERT
Pre-cast concrete culvert backfilled with native material on resource road system.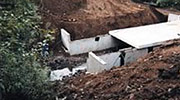 PRE-CAST OPEN BOTTOM CULVERT
Installation of a pre-cast open bottom culvert. The unit arrives in pieces and is assembled at site. They are quick to install and have a minimal effect on the existing stream.